Let me preface this blog by saying I can never claim to not be materialistic. In fact, I am quite materialistic,
like all good Americans
! Our family's goal is to try to moderate this so we can enjoy life without hurting others or ourselves (although despite our best efforts, sometimes we do...after, all,
we're only human
) for our
love of stuff
. We call it
doing the Stan Marsh
. Truth be told, I am unashamedly a
bon vivant
, but materialism is kind of like with wine: I love wine, love love LOVE it (sorry to yell), but drinking wine every day all day would be unhealthy, and it would soon cease to be a delightful pleasure and instead become a defining force in my life. Then people would call me a wino (instead of a lush).
Which brings me to this:
Have you ever seen something so awesome you just had to have it, and then committed many long hours of your life to the quest of procuring said item? That's where I've been since the very beginning of Breaking Bad when, amidst the heart-pounding, anxiety-triggering drama of the meth world, I found myself enthralled with the silver on the arm of Mr. White's Albuquerque superwife Skyler.
Skyler (played by
Deadwood
's
voluptuous
Anna Gunn
) is a woman wracked with challenges, a strong woman, an internalizing closet smoker whose overall sense of style, while punctuated with bosomy v-necks and ever-present asymmetrical cardigans and the occasional Boho New Mexico piece, screams "Knit Sale at
Chico's
."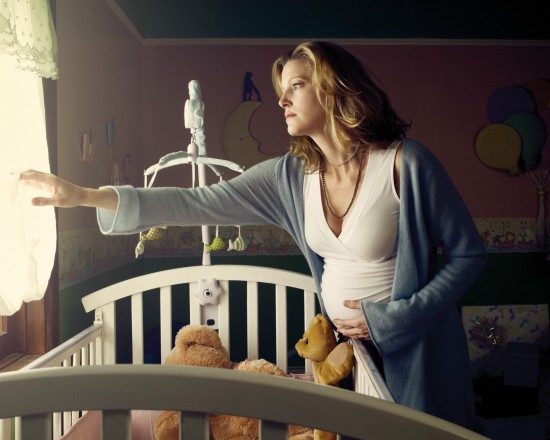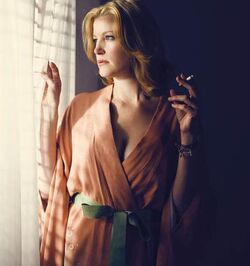 And yet she's a woman I can relate to as she juggles the commitments of being an emotionally ever-present wife and mother with the struggle of helping to provide monetarily for her family. She does her best to look good, but has very real-world moments, as when she squeezes her preggy belly into this slightly outdated dress to support her husband at a swanky party:
Skyler White's simple style reflects her sensibilities: soft, understated, with an inward focus on her family, which I can respect. And she a few things going for her despite it, specifically that ample rack, red carpet Redken waves, and a signature bracelet that's to die for.
There it is again. Skyler White wears this bracelet with everything, season after season. It's an amazing liquid mesh bracelet, and I've been crazy over it for ages.
After many months of searching, I had almost given up hope when I suddenly came across a Breaking Bad thread dedicated entirely to this bracelet. Hooray! These people really did their homework. They researched the costume director and tracked down the original designer. It's true: everything is possible with the Internet! I am so excited to say that this lovely 3-inch bracelet is on my wrist as we speak. It's just like the cricket said...I wished upon a bracelet and my dream really did come true. That is what he was talking about, right?
Sweet Justin had already given me the sweetest mother's day gift. He made a five-star chicken fettucini alfredo for me and Mama Betsey, complete with the loveliest salad...mixed greens, cranberries, goat cheese, sliced almonds, and raspberry vinaigrette, served with a divine bruschetta...oh my! And he brought me this single-stem lovely flower (seen here being swallowed by the chaos of my refrigerator magnets and my less-than-fabulous photography):
And then today, this pretty little package came in the mail.
Hmmm...what could it be? I was so excited. Arthur helped me unwrap...
And inside was this pretty little pouch...
And then...
Thank you, hubs! Thank you, Arthur! Happy mother's day, ladies.